You can't compare the beauty of natural materials indoors or wood ceiling ideas offering everlasting popularity and capabilities. Employing wood ceiling ideas from experienced craftsmanship will give your space a unique and fascinating look describing your personality traits. Using a premier quality wood material to build your home ceilings offers everlasting beauty and durability. 
A room ceiling is also referred to as the room's fifth wall. If you want to make your house looks exciting or innovative, having a wood ceiling will be an intelligent choice, and a wood ceiling will add warmth, depth, and texture to your property. 
This article discusses some exciting ideas regarding traditional wooden structures with durable and attractive wood ceiling designs for your home. Get connected with us.
What Are The Amazing Wood Ceiling Ideas?
Are you looking for color & character in your ceiling using wood? Or, you want to enhance the beauty of your existing wooden ceilings in your home. To help you with different ideas regarding the designs, we have discussed something unique & exciting;

1. Celebrate beautiful beams of wood ceiling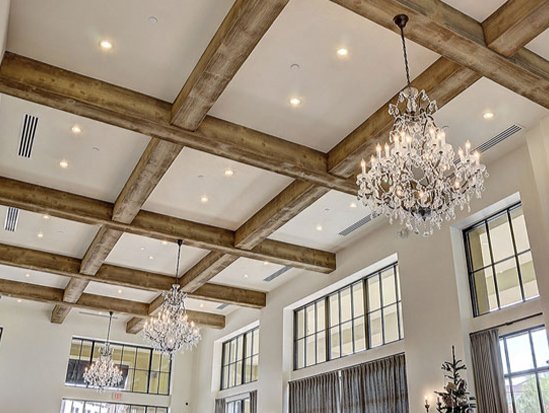 Image Credit: decorativeceilingtiles.net
You must have seen an extensive wooden framework as structural support during the home's construction. They offer a beautiful rustic appearance and texture to the ceiling with a historic charm. 
Rustic wooden beams help deliver a cozy feel, along with black metal used for the staircase, window, and door. It is one of the best & most elegant ideas to employ.

2. Create a sleek and sophisticated look with a fluted wood ceiling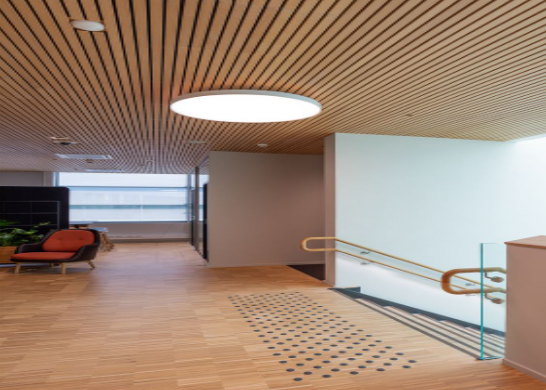 Image Credit: architecturaldigest.in
Period or older homes do not have ceiling and wall paneling features. However, recently paneling has been trending in homes of all styles & sizes to enhance the style & visual interest of void walls and surfaces utilizing modern & trendy designs. With wooden ceilings, you can celebrate natural beauty & the versatility of wood.   
If you are looking for a more stylish & modern wood ceiling idea that employs paneling can offer a sleek structure and luxurious quality to the ceilings of your home. 
You can create a modern dining room by incorporating a beautiful structure into the minimalist interiors. The wooden panels offer a great look to the walls & ceiling but keep practicality in mind.  

3. Channel contemporary cabin decor wood ceiling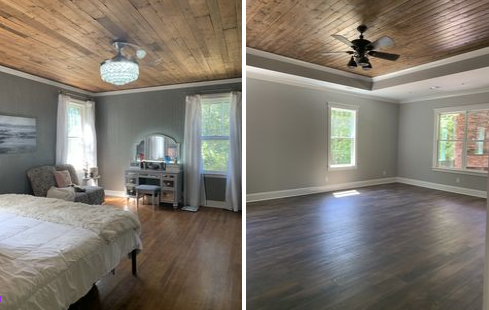 Image Credit: appletreehomesinc.com
Generally, the best cabin decor ideas are wooden-centric. Professionals use wood to provide a pleasing effect taking you to the depths of a woodland forest. 
Cabin decor offers coziness and the feeling of living away from nature. Still, using wood ceiling ideas, you can create a perfect look no matter your style.  
You can discuss the designed ideas with certified professionals. Take the home interiors to the next level with a dark wooden ceiling and matching flooring. You add a beautiful round candle chandelier to set the cabin theme.

4. Keep things light and bright Sky Blue Wood ceiling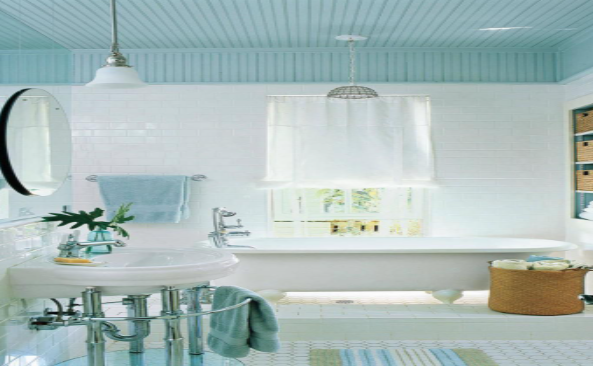 Image credit: Pinterest
Are you looking to employ wood ceiling ideas in your home but need clarification on the material? You can take the assistance of professionals to incorporate newly painted wood panels that may produce a light & bright look with plenty of texture. 
You can employ the wooden ceiling in any part of your home. Imagine a beautiful sky-blue bathroom ceiling offering a fascinating look in your bathroom. You will witness that a transformed look of your bathroom ceiling can produce a positive experience making it more elegant & stylish than ever. 

5. Create a Larger Dramatic Room Value With Vaulted Wood Ceiling: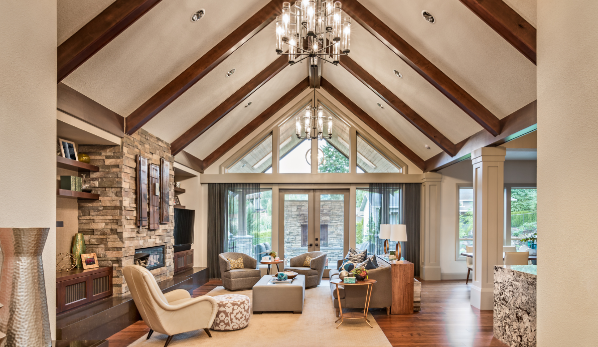 Image source- Pinterest.
Wooden vaulted ceilings contain beams that create an inverted V-shape in the ceiling, adding height and giving the space a feeling of openness, airiness, and freedom.
Interior designers frequently utilize it because of its ability to open up specific spaces and give the impression that rooms are much larger than they are. A vaulted ceiling is often advised for the living room, dining room, primary bedroom, or any other room with sufficient square footage.
The vaulted wood ceiling is not energy efficient because heat tends to rise upwards; therefore, more power is required to keep the room warm at the ground level if you live in a freezing area.

6. Unite the old materials with the new wood ceiling: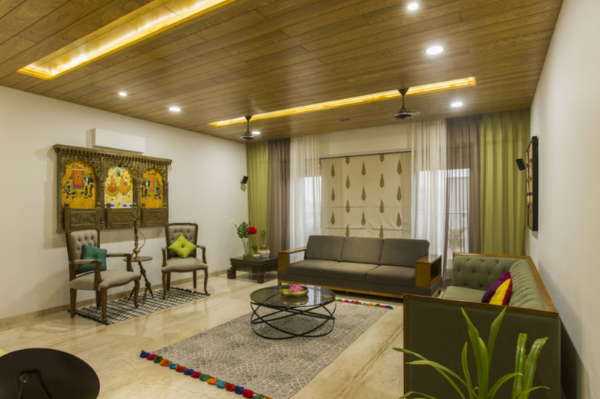 Image source- thearchitectsdiary.com.
You can contrast traditional materials with modern wooden ceiling designs. For example, paint color & furniture can offer a fantastic atmosphere. Complement your interiors by adding beautiful & attractive wooden ceilings to enhance the overall environment and bring a feeling of positivity to your home.    
Blending the old with the new & modern is always a great idea, bringing diversity to your interiors. Opt for awesome creative ideas with the help of professionals and make your house look more enchanting & mesmerizing. 

7. Get A Luxurious & Elegant Look With Coffered Wood Ceiling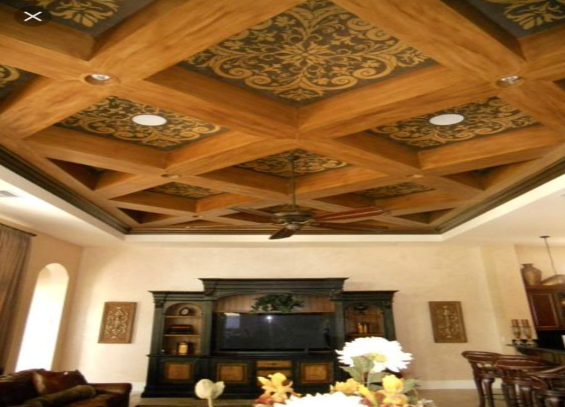 Image source- Pinterest. 
If you want to give your home a sophisticated, lavishly attractive appearance, think about installing a coffered wood ceiling, sometimes distinguished by a three-dimensional boxed design.
Traditional and classic interior design go exceptionally well together. Do away with the ornate molding if you want to utilize them in a modern setting.
But it takes a lot of time, work, and craftsmanship to do it right, so installing a coffered ceiling is rather expensive. Despite the hefty installation costs, it is still a wise decision to make because the results are frequently stunning.

8. Gorgeous Wood Tray Ceiling: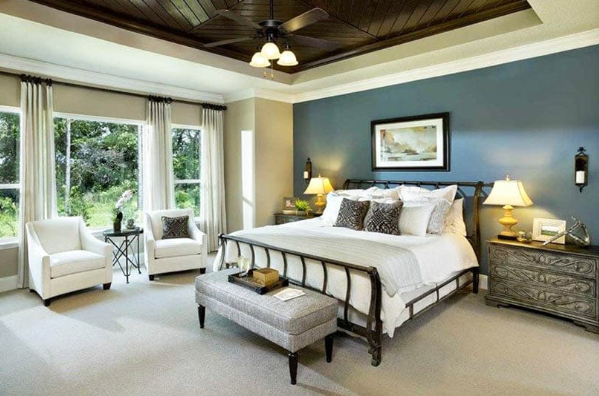 Image source- Pinterest. 
This ceiling design stands out due to its sunken appearance. The term "wood tray ceiling" refers to a ceiling that resembles an upside-down tray with a raised top in the middle and a drop-down border on all sides.
The wood tray ceiling, which has an evident difference in ceiling height, is the apparent center of attention in the space. It is a highly fashionable alternative for a contemporary home and gives the appearance of a high ceiling.
Wood tray ceilings are often referred to as step ceilings. The term "panned ceiling" refers to more than two layers of roofs.

9. Wood Lattice Ceiling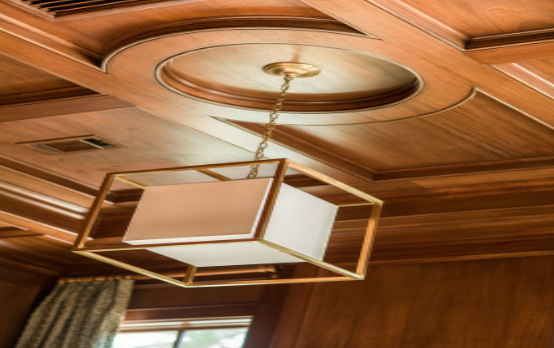 Image source homesliceapp.com
A wooden lattice pattern is an excellent substitute if you want your ceiling design to have a more theatrical feel. Wood gratings are used in this design to produce a string of cubes that are all the same size. Modern homes often have white lattice ceilings, and the room will appear crowded and active if this ceiling is installed in a small area.

10. Slanted Wood Ceiling,
Image source: pinterest.com
The other name for the slanted wood ceiling is shed ceiling, making your space stand out. This wood ceiling entails a single-sloping side. If you are looking for an inviting and eye-catching space, consider the slanted wood ceiling for your home. 
Conclusion:
Enhance the beauty of the home interiors by using our wood ceiling ideas, as it is an ideal choice to add warmth and character to your home. Also, it makes your home appear more aesthetically pleasing and inviting. If you want modern interiors for your house, do consider wood ceilings or search for local interior designers near me. Smart Control Design is a blog focused on getting your latest and most intelligent ideas to make your space beautiful. If you have any suggestions or want to add your affiliate links to our blog, contact the editor at weblinks2seo@gmail.com. You can contact us to add your guest post to our blogs. 
Read our buying guide for bedroom furniture.